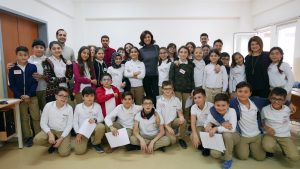 Softtech and IBM Turkey signed a joint project. As part of the corporate social responsibility project, called "New Horizons with Artificial Intelligence", students are given both theoretical and practical information about future technologies, artificial intelligence and machine learning.
With the aim of building the future of technology, Softtech and IBM will share their know-how with students by giving them the needed education within the scope of "New Horizons with Artificial Intelligence" project.
Volunteer Teams, consisting of Softtech and IBM employees, will provide middle school students with information about 21st century technologies, new business areas, artificial intelligence and machine learning during an education period. Students are expanding their knowledge through "Machine Learning for Kids", an online training platform hosted on IBM Cloud.
Thanks to the project, Softtech and IBM have reached 350 students from Sarıyer Fahrettin Aslan Secondary School and Mehmet Akif Secondary School which were determined in accordance with the Erasmus + STEM For All project conducted under the coordination of Sarıyer District National Education Directorate. In the second phase of the project, which started in April, it is aimed to reach 270 middle school students in 3 schools in Ankara and Istanbul.
Emphasizing that the cooperation with IBM has been going on in different areas for a long time, Softtech General Manager Murat Ertem made statements about the details of the project. "Artificial intelligence will enter our lives more and more. In this way, we will focus more on creativity, research and development. As Softtech, it is very valuable for us to bring the artificial intelligence and many other technologies that we see as the technology of the future together with students, the technology leaders of the future. We are pleased to announce our "New Horizons with Artificial Intelligence" project, which we implemented with IBM volunteers, to the public. With this project, we aim to open up new horizons in children's imagination and to reveal their creative potential. We also plan to lead the ecosystem and train more children at more schools."
IBM Turkey Country General Manager Volkan Sözmen said: "We are proud to partner with Softtech to work with students. In order to help bridge the gap between traditional education and STEM education system, we combine IBM Technologies with SkillsBuild activity resources. IBM's solutions will continue to strengthen social development as well as strengthen our customers' business and economic development."