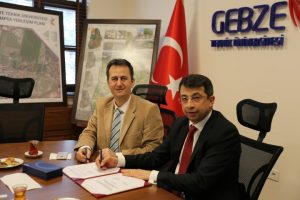 With the new deal signed with SoftTech, Gebze Technical University (GTÜ) has added a new example to its cooperation between the 'producer' and the 'educator'. The parties decided to work together in many projects from R&D projects to the recruitment of the students.
Strategic Cooperation Contract between GTÜ and SoftTech Software Technologies Research Development and Marketing Trade Inc. was signed with a ceremony at the University Senate Hall.
The signing ceremony was participated by GTÜ Rector Prof. Dr. Haluk Görgün, GTÜ Vice Rector Prof. Dr. Hasan Aslan, SoftTech Software Technologies General Manager Melih Murat Ertem, GTÜ Information Technologies Department Chairman and Computer Engineering Department Associate Professor Mehmet Göktürk, SoftTech Software Technologies Deputy General Managers Mehmet Ali Madendere, Darço Akkaranfil and Haluk İnanmış, Project person Hanife Oktay, R&D and Teknokent Manager Ömer Gökçeli.
The contract provides that GTÜ will be giving academic support to the SoftTech's R&D activities at the SoftTech's new R&D center planned to be opened in Kadıköy, in addition to the existing R&D center at Tuzla, as well as other future such centers as an example of cooperation between the universities and the industry. The parties also discussed the general provisions for the joint works and activities intended to be conducted together for the purpose of supporting the students and members of academia put their theoretical knowledge into practice.
The strategic cooperation also has the character of a contract including the topics of consultancy to R&D projects, postgraduate study, lecturing in the university, participating in the university's seminars, recruitment of the students, etc..