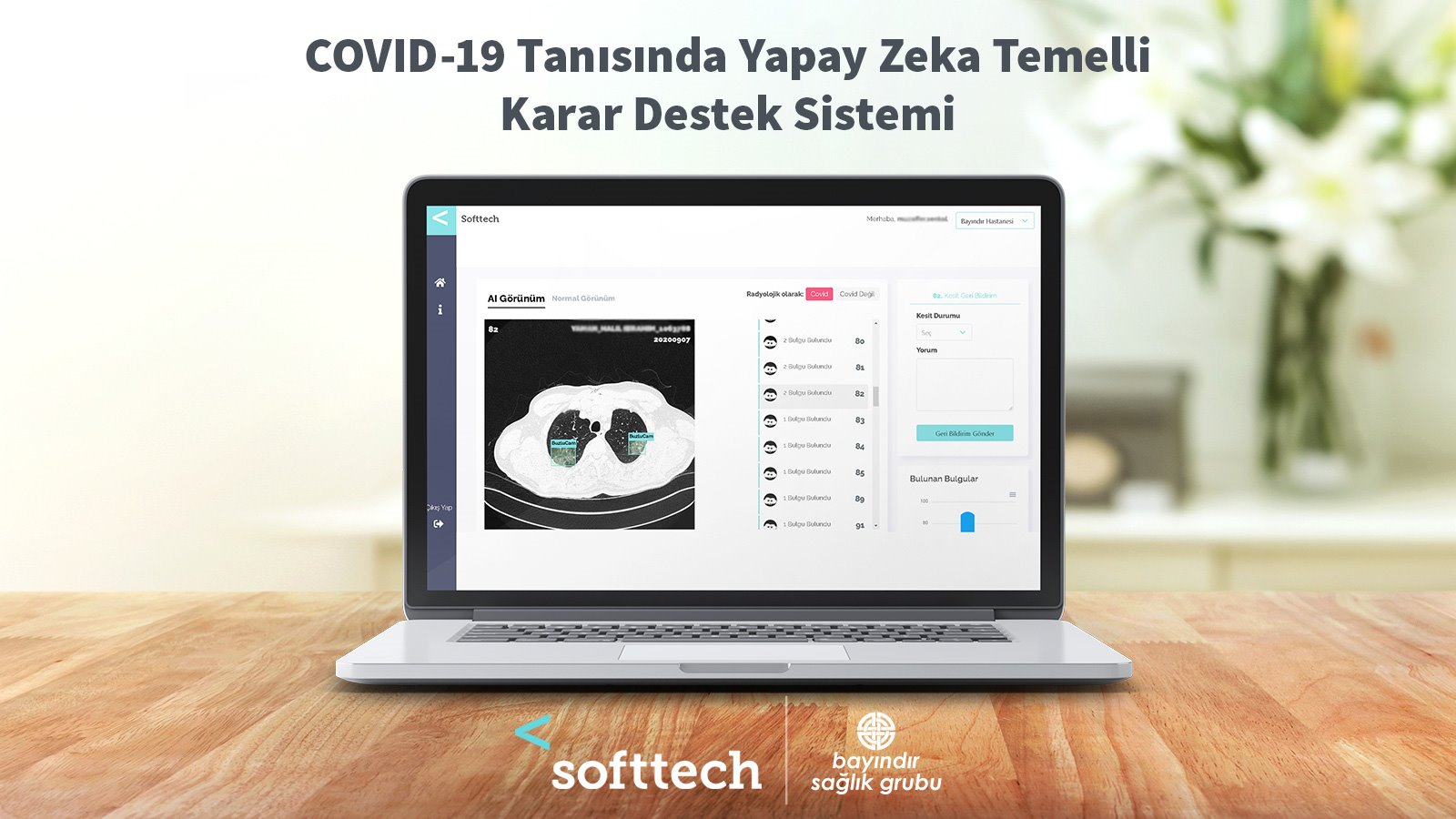 Cooperation with Bayındır Healthcare Group for the Fight Against COVID-19
It is important to diagnose COVID-19 disease at an early stage and immediately isolate the infected patient from healthy people and start treatment. In the diagnosis of the disease, in addition to the PCR test, lung tomography and some blood tests are used. Especially during the pandemic, in some centers with intense patient admissions, it may be necessary to scan computed tomography (CT) and evaluate it frequently to support the diagnosis and to determine the extent to which the lung is affected. This situation may cause a need for more manpower and more time.
COVID-19 Decision Support System developed based on artificial intelligence technology as a result of our cooperation with Bayındır Health Group, an affiliate of İşbank, has successfully diagnosed 92% of positive patients. In a lung CT examination, it estimates the images with disease among hundreds of images in the CT in a short time and creates a decision support mechanism for doctors.
The diagnosis of COVID-19, which affects our country as well as the whole world, is made by PCR test. According to scientific researches, the sensitivity of this process varies between 50-60 percent and the sensitivity can only be increased with repetitive studies. CT, besides the PCR test, plays a major role in the diagnosis of patients with respiratory problems who are considered clinically diagnosed with COVID-19. Many international studies have shown that thorax CT (computed tomography of the lung) can be used in the diagnosis of the disease quickly and reliably, as well as detecting the damage caused by COVID-19 in the lung.
Developed within the scope of our cooperation with Bayındır Health Group, the COVID-19 DECISION SUPPORT SYSTEM project aims to help doctors make quick decisions by focusing on the images that need to be considered in lung CT examinations. The system can quickly identify those with disease involvement among hundreds of images in the CT scan. In this way, it can successfully detect 92% of patients with lung involvement due to COVID-19.
Signs and patterns carrying COVID-19 symptoms on thorax CT images taken within Bayındır Hospitals are uploaded to the application developed with machine learning technology. The work continues in such a way that the identification capability of the system is automatically upgraded with each image examined. Thanks to this high technology, the application can examine the uploaded images and catch even the smallest evidence.
Three Key Points In Artificial Intelligence-Based CT Analysis
In the CT examination using artificial intelligence in COVID-19 patients, rapid evaluation, accurate evaluation and evaluation of the treatment process coming to the forefront.
1. Quick Evaluation: It is maybe necessary to examine many patients in a short term, during the pandemic. One CT scan includes between 300-350 cut views. Even though these views are evaluated rapidly, it takes to 10 minutes per patient. Artificial intelligence indicates that suspicious area by evaluating within seconds. Thereby prediction value increases and the false negative rate decreases.
2. Correct Evaluation: With artificial intelligence, it is aimed to increase the diagnostic values such as sensitivity, specificity and reality.
3. Evaluation of the Treatment Process: The patients diagnosed with COVID-19 and with pulmonary ecliptic, it takes more time to as far as normal evaluation than evaluate the course of disease and compare to CT examinations with previous CT.
A GREAT ADVANTAGE FOR THE HEALTHCARE SYSTEM
Stating that COVID-19 diagnoses can be determined with high accuracy in a very short time with the technology we have developed, our General Manager M. Murat Ertem said: "Innovations in healthcare services help healthcare professionals to work more efficiently and quickly, and support them to focus on their patients. We hope that the COVID-19 Decision Support System, which we have developed with artificial intelligence technology, will help healthcare professionals to diagnose faster, create time and benefit more people."
Stressing the importance of pandemic labor given by health professionals and dedication in the process taking place in the world, Bayındır Healtcare General Manager Sezai Sevgin said: "The application displays very fast processing and we hope that it will provide great benefit to our patients, physicians and our country's health system, as it has the ability to detect findings that cannot be caught by the human eye."
FEATURES OF COVID-19 DECISION SUPPORT SYSTEM
Developed by using artificial intelligence technology upon lung CT scans.
Scans images with signs of COVID-19 are marked on the patient's CT scan, creating a decision support mechanism for doctors.
Thanks to web browser that are placed in hospital, prediction results are found directly.
It is easily integrated with hospital systems and its installation is made easy.
It can work in local, hybrid and cloud service providers